Supported Trainers = Happy Trainers!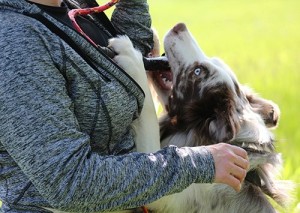 I hear the complaints all the time—the isolation, the snarky online chat groups, the limitations of learning from books, videos, seminars, and conferences. Sometimes you really need to sink your teeth into a particular case or specific behavior issue. Sometimes you need to ask a hard question or voice a fear or doubt. Sometimes you need a new angle or perspective to get ideas and energy flowing again.
Dog Trainer Mentoring Program
Safe support to push your training forward
That's what this program is all about: A safe, supportive, small group environment in which to explore questions and cases, expand current skill sets and knowledge base, and be challenged to push yourself to your next heights of smart, efficient, effective training using the application of sound, humane, scientific behavioral principles.
Oh, and we'll have fun, too. While growth and results are our focus, we all know what the science says about the impact of fun on learning. So we maintain a small core group of trainers committed to growth and excellence through open, judgement-free discussion and exploration, a little hard work, and lots of laughter and levity.
Course details
Monthly Mentor Membership: From $140/month
Mentor groups meet year-round
Weekly lectures and homework designed to help you reach your full potential as a trainer
Online forums for group interaction; I respond to forum topics twice weekly
Personal weekly feedback on training videos for each mentorship member
Ability to bring case studies to the group for brainstorming and support